The Lamp of Learning Society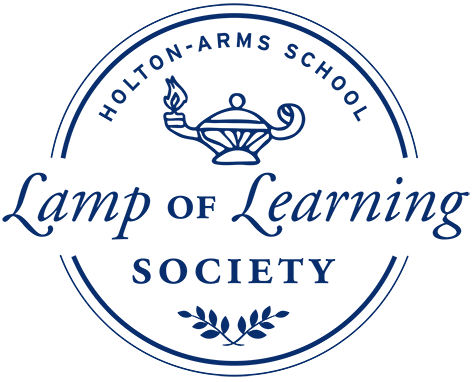 The Lamp of Learning Society honors and recognizes those individuals who have included Holton-Arms in their estate plans or have made a planned gift to the School. The Society celebrates and promotes the tradition of generosity, connectedness, and trust in the mission and values of the School.
The Society has chosen as its symbol the lamp from the School's Crest to demonstrate how estate gifts help illuminate the path for future generations of Holton students. While other aspects of the Crest symbolize community (the orbs), youth and peace (the branch) and learning (the open book), the lamp symbolizes the light cast by knowledge.
We are grateful to the following individuals whose bequest intentions and planned gifts will secure Holton's future and ensure that the School remains at the forefront of secondary education for young women. If you have made a provision for Holton in your estate plans, please notify the Advancement Center. If you have not yet done so, we hope that you will consult with your family and choose to become a member of The Lamp of Learning Society.
Members
Anonymous
Nancy Alfaro Ames '55
William W. Anderson and the late Rosemary Wire Anderson '58
Patricia Bogley Bailey-Berneburg '60*
Betty Morgan Baker '45*
Marion Grant Baker '57*
Diana Coulton Beebe
Edith Stenhouse Bingham '51
Katharine Dunlop Bond 1922*
Elizabeth Peelle Boothe '30*
Robyn Clark Bostrom '84
Raymond and Jeannette Brophy
Bill and Julie Buchanan
Ruth Hale Buchanan '35
Arthur H. Bunker*
Audrey Bashore Butcher '45C*
Caryn Cabaniss-Mudd '81
Deborah Camalier-Walker '70
Cassandra Carter '75*
Mary Pope Cheney '40C*
Laura Jo Deady Choquette '32*
Dorothy Clarke '53
Judith Coe '63
Florence Fletcher Coke '55
Josephine Rice Colvocoresses '33*
Anne Cooke '63
Jewel Davis Cornell '43
Elisabeth Bunting Crouse '32*
Alice Meyers Davis '38*
Daniel Korengold and Martha L. Dippell '68
Eleanor Davies Ditzen 1921*
Katherine Lichtmann Dockser '81
Marion Miller Donley '38C*
Elizabeth Bradley Dorsey '40*
Melanie Dorsey
W. Leslie Douglas*
Emlen Davies Evers '33*
Sarah Gillespie Fairbarns '45 '47C
Gail McGregor Fearing '62
Mary E. Finnerty*
Julia Foraker '39*
Cornelia Tompkins Fowler '57
Polly Gerts 1917*
Harry and Dorothea Gilbert*
Muffin Crocker Gillam '60
Susan Gortner*
Elizabeth S. Graybill '91
Anna-Liza Harris
Mary Jensen Helier '35*
Margaret Hambley Hendrick '42*
Barbara Henry '51C*
Dr. Laura Garmany Holt '64
Loretta Hoy*
Adele Bunker Hynes '37*
Enid Claire Snow Ives '42*
Julia Mills Jacobsen '41*
Susanna A. Jones and Rob Béguelin
Anne Keiser '66
Diane Haase King '77
Pauline N. King '42
Polly Wirgman Kittelle '34*
John and Patricia Klick
Anna La Chapelle '31*
Donna Packard Lachance '74
Lori Larson
Angela LaVigne '54*
Ann Leininger '83
Mary Mink Lewis '38*
Carol Lovell '59*
John and Lenora Lynham Jr.
Alice Marriott*
Suzanne Frazier Martin '57 and Harwood Martin
Bruce Mackall McConihe '69
William and Dorothy McSweeny
Timothy and Elizabeth McTaggart
Beverly Merrill '45 '47C*
Wendy Steck Merriman '77
Andre and Dandria Michalak
Judith Sillin Miller '54
Teresa James Morris 1916*
Sarah Koester Morrison '65
Susan Murphy Murray
Kevin P. Murray
Victoria Beall Muth '78
Alice Ingersoll Nagle '39*
Mary Louise Ovenshine '35*
Lulu Hampton Owen 1924*
Margaret Smith Peete '44*
Jon and Joan Peters
Tish Peterson
Jane E. Platt '33*
Allison Hauspurg Pittman '03
James Polkowske and Tracy Abdo Polkowske
Margaret Abell Powell '35*
Catherine Mary Rafferty '84
Katharine Crocker Rhodes '61
Lorrie Lipscomb Roberts '61
Beryl Powers Robison '57
Elise Jeffress Ryan '71
Barbara Menninger Sack '42C
Mary Katherine Farmer Shaughnessy '68 and Dennis Shaughnessy
Deborah J. Sheridan
John and Ellen Shorb
Melissa Siegel
Marion T. Smith '68
Joy Smith Starr '49*
Mary Louisa Steck '49 '51C
Margaret MacCarteney Strassner '64
Brereton Sturtevant '38*
Sharon Swagart '80*
Mary Elizabeth MacArthur Symington '31*
Elizabeth Parkes Taylor 1925*
Constance Corby Tompkins '69
Lucille Elliott Toomey '32*
Olga Sturtevant Toulmin '50*
Ann Cutler Townsend '54
Marie Vallance '43*
Susanne Cole Wean '67
Beatrice Henshaw Werner '52C
Martha Wilson '61
Catharine Murphy Yoran '49*
William Christopher Bruce Yoran
*Deceased
An Invitation to Join The Lamp of Learning Society
Members of The Lamp of Learning Society have expressed their commitment to The Holton-Arms School through a very special and important form of financial support.
These donors have named Holton-Arms as the ultimate beneficiary of a planned gift. Such gifts might include a bequest and/or charitable income gifts, such as charitable remainder unitrusts, charitable remainder annuity trusts, or gifts of life insurance.
Once you complete your estate plans, please fill out our member profile form to let us know. We would like to thank you for your generosity by including you in The Lamp of Learning Society.
Membership Benefits
Your membership allows us to thank you and recognize you for the plans you have made, and it may inspire generosity in others.
Benefits of membership in The Lamp of Learning Society also include annual luncheons and, invitations to special events and seminars.
The most important benefit, however, you will receive from joining The Lamp of Learning Society is the satisfaction derived from making a lasting contribution to our long-term prosperity.